Hey guys, have you ever noticed that futile dropdown box under "Edit Summary" that does absolutely nothing?
Well, now it does something! Yay!
From here on out (if you've refreshed the cache, that is) the dropdown box will say "(click to browse)".
Click it, and...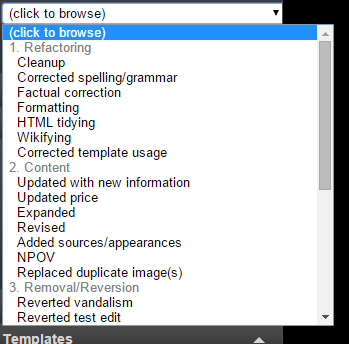 Holy cow!
So yeah, that's pretty much it. Select one of the edit summaries from the list and it will autofill. All you have to do is press "Publish".
Credits: KeeblerPie.
Ad blocker interference detected!
Wikia is a free-to-use site that makes money from advertising. We have a modified experience for viewers using ad blockers

Wikia is not accessible if you've made further modifications. Remove the custom ad blocker rule(s) and the page will load as expected.