Information
"I haven't worked out the kinks yet..."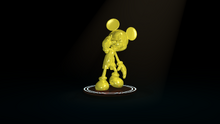 This page contains information about the full release of Five Nights at Treasure Island. Any information here is subject to change.
---
Thank you!
Infinite Night is a mode in Five Nights at Treasure Island. It will be a mode where the player must try and survive as long as possible to get a high score.
Gameplay
Infinite Night is a never-ending night where the Suits and Humanoids AI difficulty will get higher as the night goes on.[1] As suggested by the name, the night will never end.
Trivia
In the Remastered 1.0 released by AnArt1996 before confirming the 2.0 announcement. Remasterered 1.0 was only a test like build with only Photo-Negative Mickey and Suicide Mouse, the gameplay would have the night never end, basically being like an infinite night.
References
Ad blocker interference detected!
Wikia is a free-to-use site that makes money from advertising. We have a modified experience for viewers using ad blockers

Wikia is not accessible if you've made further modifications. Remove the custom ad blocker rule(s) and the page will load as expected.